HARP MASTER CLASS BY ALEXANDER BOLDACHEV
4/10/2016
Date and time:


10 October 2016 (Monday), 10.00-14.00
Venue: Main Building, Room X
Registration
All applications are to be submitted to Ms Éva Gyöngy Máté, international relations manager, at mate.eva.gyongy[at]lisztacademy.hu, no later than 7 October 2016, 16.00.
Only enrolled students of the Liszt Academy may apply as active participants.
Please, send your name, year, and the title(s) of the piece(s) you wish to perform to the email address given below.
Passive participation is also available by sending your name, year and institution to the email address given below.
Please, indicate in the email subject line: BOLDACHEV
Please, note that the provisional schedule will be formed on first come, first served basis, and the final performing order may be subject to changes!
The active participants can warm up from 9 a.m. to 10 a.m. at the venue of the master class.
Alexander Boldachev is the guest artist of the 2016 International Harp Festival in Gödöllő and his solo recital will take place in the The Royal Palace of Gödöllő on 8 October 2016.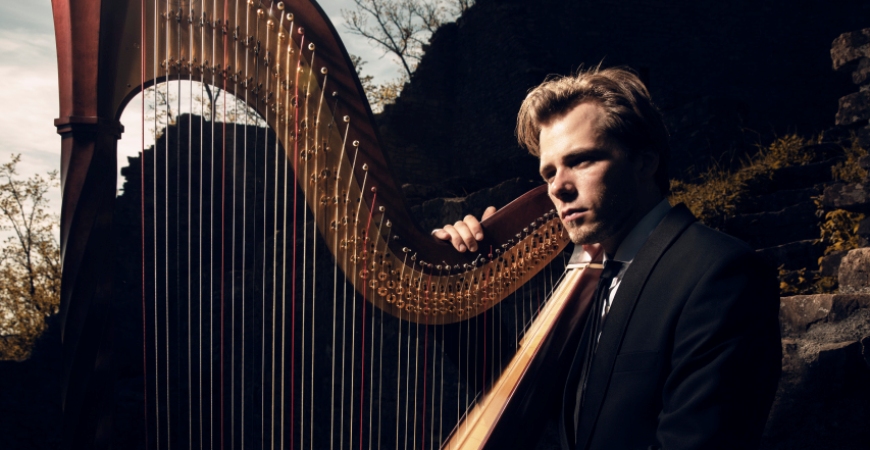 Alexander (Sasha) Boldachev was born in St. Petersburg, Russia. Having mastered the piano and the harp at the age of five, Alexander began his concert activity and at the same time, he wrote his first work as a composer. He was educated in St. Petersuburg's "Music lyceum for talented children" and "Zurich Academy of Arts", with Karina Maleeva, Catherine Michel and Sarah O'Brien. During his studies he was taking lessons and masterclasses from Xavier de Maistre, Jana Bouskova, Marielle Nordmann, Isabelle Moretti, Elisabeth Fontan-Binoche, Susann McDonald and others.
At the age of nine, Alexander began his international career with a concert with the State Orchestra of Lithuania. During the following years, he won many international competitions for harp and composition (France, Russia, Belgium, Bulgaria etc.), participated in festivals and international harp congresses. Awarded by the prize "British brilliant talent" (the first non-UK prize-winner), "ProEuropa" ("For outstanding talent and contribution to the European art"), and a holder of a fellowship of the Bank "Vontobel" in Switzerland and of the "Banque Populaire" in France.

His current activities include solo concerts on all 5 continents, chamber music partnerships and work as an arranger and composer. He has been a jury member for the American Harp Society Foundation Competition and "Nota Bene" Competition in 2016, a guest artist on "Bolshoi Theatre", "Zakhar Bron Chamber", "Orchestra Petrobras" and many other orchestras, producer for songs in modern industry with "Eric Racy" label, a composer for Short Films in Russia and Switzerland.
Since 2016 Alexander became an exclusive artist for Salvi Harps.
Tags