Masterclass of Nino Jvania on contemporary performance practice
23/11/2017
27 November – 1 December 2017, Liszt Academy of Music, Budapest
Venue: Room X.
Language: German, English
Timetable and participants: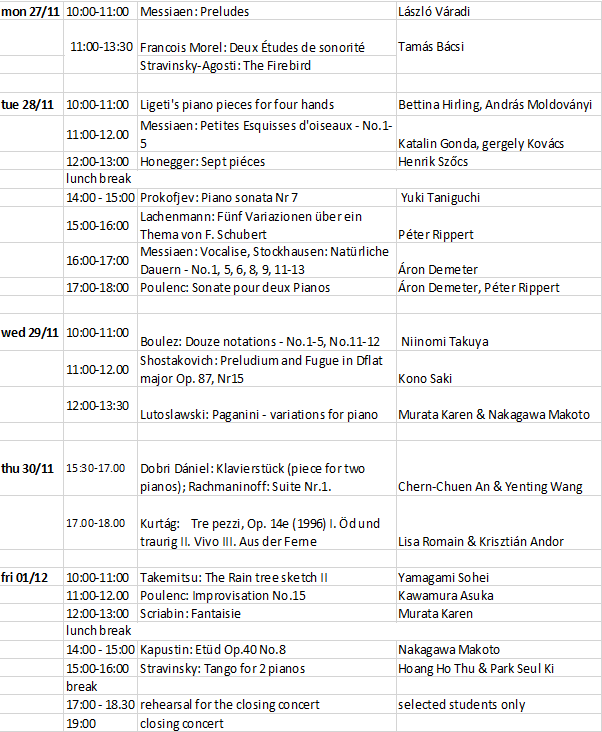 Nino Jvania, leading pianist from Tbilisi, Georgia started to play the piano at the age of 6 being a pupil of the Experimental Music School for Talented Children. After leaving the school in 1993 she was admitted to the V. Saradjishvili Tbilisi State Conservatoire as a student majoring in piano. After the successful graduation from the conservatoire in 2000 she came as DAAD grant holder to Germany to study at the R. Schumann-Hochschule Düsseldorf. During her studies Nino developed her own performing style that led her to winning Schmolz-Bickenbach Prizes in both Solo and Chamber music categories and to the active concert activity.
At the same time Nino used the opportunity of studying in Europe to get acquainted with some new interesting expressions of musical thinking. Participation in the Stockhausen Courses and performing some of his piano pieces under the sound projection by Stockhausen himself aroused in her the strong interest in twentieth-century music, especially in the modern one. This particular interest led Nino Jvania to the Concours International Piano XXe siècle d'Orléans 2002 (France) where she was awarded three different prizes, among them - PRIX SPECIAUX XXè SIECLE pour un interprète (II Prize). The successful participation in the above mentioned competition inspired her to work further in the direction of modern music: in 2003 she became the grant holder of the International Ensemble Modern Academy (Frankfurt) and took part in several music projects of this eminent ensemble.
In 2005 Nino returned to Georgia and took the Doctor's Degree ("Karlheinz Stockhausen's Piano Work and the Problem of Enlargement of Functions of a Pianist in New Music"), working at the same time as the Assistant Professor at the Tbilisi V. Sarajishvili State Conservatoire.
Nino has been invited as the guest artist to several festivals and courses dedicated to contemporary music: Summer Institute for Contemporary Piano Performance 2002 (Boston, USA), Encuentros 2003 (Buenos-Aires, Argentina), Evenings of Contemporary Music 2006 and 2007 (Tbilisi, Georgia), Stockhausen-Symposia 2008 (Kiev, the Ukraine). In 2007 she founded together with young Georgian composers and interpreters the Festival of Contemporary Professional Music - Kontrapunkt. At the same time she collaborates with "The Young Georgian Composers' and Musicologists' Association", performing and popularizing the works of young composers. In 2010 Nino participated in semester-long Junior Faculty Development Program attending classes and working with faculty members at New England Conservatory (Boston, USA).
At present Nino continues to work on music of both past and present enriching her repertoire, which already today combines many significant musical achievements of music history. This wide repertoire is warmly greeted by her public in many different countries. Currently she serves as a Dean at the Tbilisi State Conservatoire as well. Her visit to Budapest is funded by the Erasmus+ KA107 program.
Tags