Obituary- János Devich, Advisor to the President of the Liszt Academy
10/10/2017
The funeral service of Professor Emeritus János Devich, violoncellist and instructor of the Chamber Music Department will be held on 20 October, at 2pm at Óbuda Cemetery.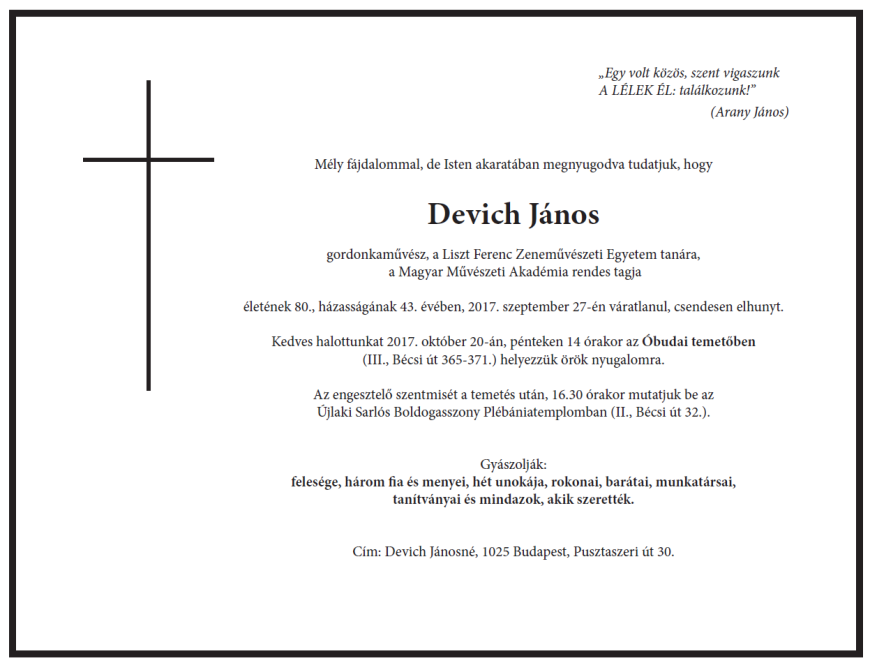 Dr Andrea Vigh, the President of the Liszt Ferenc Academy of Music paid tribute to Prof János Devich with the following words:
"We all know that life is finite and we know all too well that every death is unfathomable. Nonetheless, there are some who we think to be immortal. It is with great sorrow and grief I say goodbye to Prof János Devich, less as the President of the Liszt Academy, the institution which has now lost one her legendary figures. Rather, I am now taking farewell from him as his former student and current colleague, as I was one of hundreds of lucky ones who were educated by Prof Devich to acquire the basic principle so evident to an entire generation of Liszt Academy students that chamber music is absolutely essential. For over thirty years, Prof Devich was a member of the academic staff of the Liszt Academy, which was also his own alma mater. Whoever attended his classes has similar memories of him as I do. We sincerely loved his lessons, his accuracy, his spotlessly elegant looks and that he managed to wrap his musical expertise into personal stories, making the classes wonderfully enjoyable for his students. To his mind, in chamber music, the musician was equally important as the piece itself. He was one of those genuinely great educators who do not only teach subjects and curricula but students, and who do not convey mere knowledge and skills but an entire world view. He believed in a healthy lifestyle, spiritual balance and ability to love. Although nothing can make up for his absence, it is of some comfort to know that in the perilous and politically stormy era which happened to be his lot, he could live a happy and fulfilling life, in which there was room for the stage, school and family. We cannot accompany him, but his ethos will stay with us, so what remains for us is to follow his example, preserve and pass on his legacy.
We will never forget you, dear Prof Devich!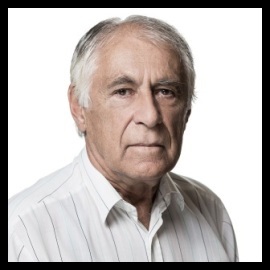 Balázs Fülei, Head of the Chamber Music Department remembered the professor by recalling their momentous first encounter:
"I was in my sophomore year at the Liszt Academy. Though I was a member of various chamber music formations, I couldn't resist taking on another one. I was told that Prof János Devich would be our instructor. We took Bach's Trio Sonata from the Musical Offering to class with us. I still remember with absolute clarity meeting him: we entered Room 23, and he received me, a brand-new student, as if we had known each other for many years. As in fact, he did know me, as all others at the Liszt Academy, and not just knew us but kept track of our development and career. For me, it was very inspiring that our Wednesday classes were like home recitals. I would always look forward to performing whatever we had prepared to Prof Devich in Room 23. First, he listened to the entire piece from the first bar to the last, and we knew he was really focussing. Perhaps he wasn't even aware of the fact that with his personality and dedicated attention he actually encouraged us to try spontaneous things. If we had someone missing from our chamber music ensembles and couldn't come to class, we would still learn a piece because we so eagerly longed to play to him. To his chamber music class, we took Bach's Sonatas for Viola da Gamba then Beethoven and Brahm's sonatas. Later, we set up a piano quintet for him. Thanks to students being absent, we could, for instance, become familiar with music written for viola and piano. Sometimes I would arrange piano music for string quartets or duo formations. Should I have gone to class on my own, Prof Devich would just listen to me playing; I practically gave him a solo recital. For me, these occasions were of crucial importance, as I could practise a piece without a stage in the company of an exceptionally cultivated individual. I believe he was such an excellent educator that he simply knew what I needed then. And you were right, Prof Devich, this is what I really needed. During the lessons, I often listened how he talked to my chamber music partners and what instructions he would give to them. He knew exactly, what each of us needed in order to improve. He had a particular sentence that always worked wonders: when he wasn't yet happy with our performance he'd smile and say: "And now forget everything I've been saying and play it once more but this time, add your talent to it." And then, all of a sudden, we did what he had been asking us to do. But then it wasn't a response to his request anymore but had become entirely our own interpretation.
He deeply cared about everything that was happening at the Liszt Academy. He would participate in as many meetings as possible and share his experience. The youth was of great importance to him. He himself was eternally young, full of energy and dynamism. Just a few weeks ago, after the start of term meeting, he said he would come back to teaching right after his recovery from the surgery. Prof Devich, who was never late for anything, will not return to us anymore, but perhaps he has arrived somewhere where he can join up with his favourite artists, painters, composers, poets and his beloved ones. May he rest in peace."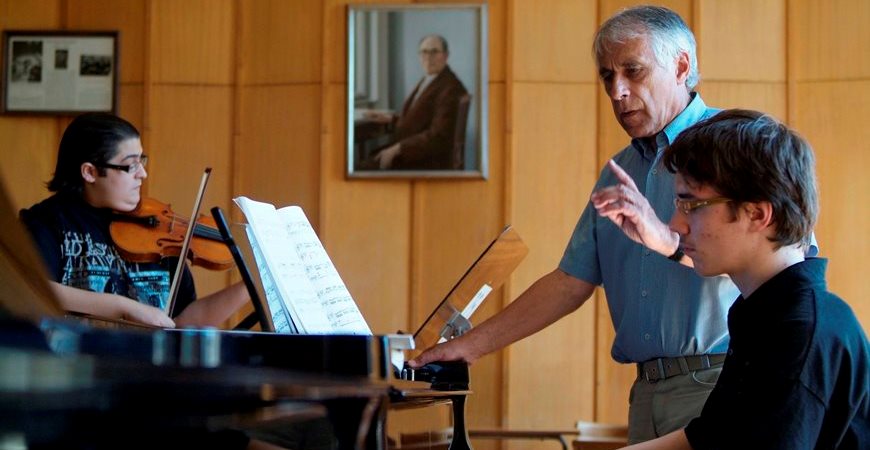 Photo: Liszt Academy / Kata Schiller
Prof János Devich was born in Szeged in 1938. He completed his secondary studies in violoncello of the Bartók Conservatory under the guidance of Sándor Sebestyén. From 1957 until 1962, he was attending the Liszt Ferenc Academy of Music as Antal Friss's student, then from 1963, he continued his education at the Accademia de Santa Cecilia with Enrico Mainardi.

Between 1961 and 1975, he was a regular member of the Hungarian State Opera Orchestra, and then he acted as principal from 1975 to 1985. Between 1985 and 1991, he was the cello soloist of the Hungarian National Philharmonic Orchestra. From 1966 until 1997, he gave recitals all over the world as a member of the Sebestély String Quartet, later renamed to Kodály String Quartet.

From 1985 he was a member of the academic staff of the Liszt Ferenc Academy of Music. In 2005, he was appointed to be Advisor to the President. In the course of his career, he would often give masterclasses both in Hungary and abroad.

Numerous recordings attest to his chamber music performances, as the interpreter of the string quartets by - among others - Haydn, Mozart, Schubert, Beethoven, Debussy, Ravel, Kodály or Dohnányi, many piano and clarinet quintets as well as of contemporary Hungarian compositions.

Since 2013, he was an ordinary member of the Section of Music of the Hungarian Academy of Arts. He was also a Meritorious Artist of the Republic of Hungary and the awardee of the Liszt and Bartók-Pásztory Prizes.
The Liszt Academy has lost one of her own and will provide the funeral honours for Prof János Devich.
Tags