State decorations presented on 20 August
24/08/2017
On the national holiday of Hungary, prestigious state awards were conferred upon two members of the academic staff of the Liszt Ferenc Academy of Music as well as upon the pianist Tamás Vásáry.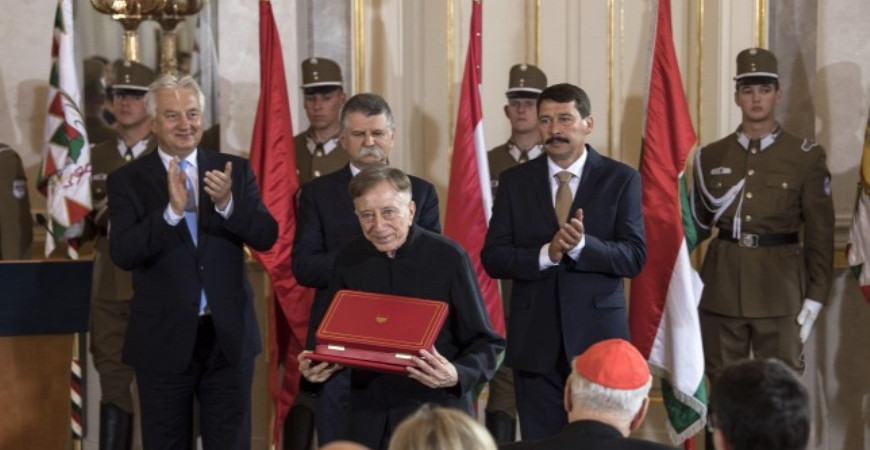 Fotó: MTI / Szigetváry Zsolt
State honours and professional awards were presented by the Minister of Human Resources, Zoltán Balog in the Pesti Vigadó on the feast day of the Founder of Hungary, Saint Stephen. The stage director András Almási-Tóth, associate professor of the Liszt Ferenc Academy of Music and the head of the Opera Programme was awarded with the Knight's Cross of the Order of Merit of the Hungarian Republic (Civilian) for his high-standard achievements. The Minister also acknowledged the accomplishments of the folk musician, folk viola instructor and member of the Dűvő Folk Band, Zsolt Nagy with the Gold Cross of Merit of the Republic of Hungary.
The Order of Saint Stephen is the highest decoration awarded to both civilians and clerics for their merits. This year, the state decoration was conferred upon Cardinal Péter Erdő and the pianist Tamás Vásáry by the President of the Republic of Hungary, János Áder, in the Sándor Palace. Mr Áder pointed out that Tamás Vásáry had set himself far-reaching and high goals, fulfilling his early promise as a child prodigy. The young titan has turned into a hailed, mature musician and wise maestro. The President stated that Tamás Vásáry's charismatic and spell-binding style of interpretation had made him globally successful with an instrument which has vast number of world-famous performers. Mr Áder expressed his gratitude to the pianist for returning to his home country after a forced farewell while retaining his Hungarian identity in the midst of stardom and being hailed by globally acclaimed record companies and glamourous concert halls.
MTI, EMMI / zeneakademia.hu
Tags