The 1st Budapest International Guitar Competition drew a full house at the Liszt Academy and attracted strong interest from the profession and the media alike, said Liszt Prize laureate József Eötvös, principal organizer of the contest, of the busy days behind them. The first prize was taken by Andrea de Vitis, who is considered to be the most talented emerging guitarist of Italy today. In the past three years he collected more than 20 prizes in international competitions across Europe, including the Golden Guitar award for the best up-and-coming guitarist, which he received last year at the International Guitar Convention of Alessandria.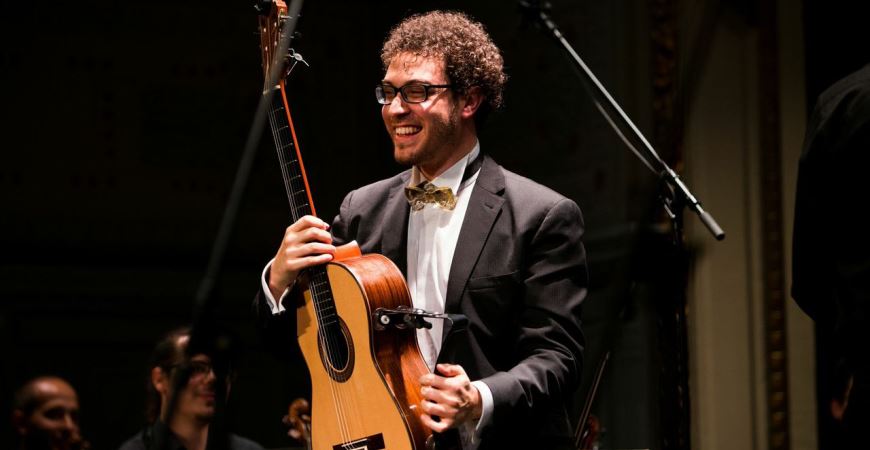 Andrea de Vitis (Photo by Zoltán Tuba)
The winner of the Budapest contest was awarded €5000 in prize money, a Sakurai Concert J. concert instrument, an invitation to perform at 12 international concerts and the chance to enter at no charge the next Alessandria guitar competition. The silver medalist, Marko Topchii, received €2000, while the third place winner Hedvika Svendova €1000. Deciding on the laureates was the task of a 12-person jury made up of international artists, professors and teachers. The fate of the finalists depended not only on Hungarian critics but jury members from Germany, Canada, Poland, Greece, Italy, Ukraine and Slovakia.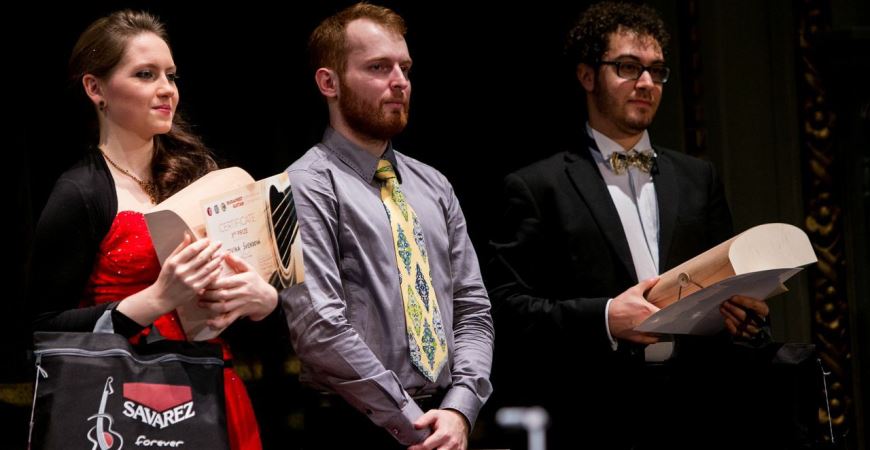 The laureates (Photo by Zoltán Tuba)
The high standard of the competition was also shown by the fact that nearly all of the competitors who got into the second round were multiple award-winners, including the three finalists. The jury members were unanimously fascinated by the organization and high quality of the event, as well as the beautiful building of the renewed Liszt Academy. According to many the Budapest competition already ranks among the greatest contests in Europe, and if we can continue to organize it on an annual basis, it may even become the greatest guitar competition of Europe. The organizers would definitely like to carry on with the competition, and decision as to the date of the next Budapest international guitar contest is expected in the next few weeks, said József Eötvös, guitar professor at the Liszt Academy.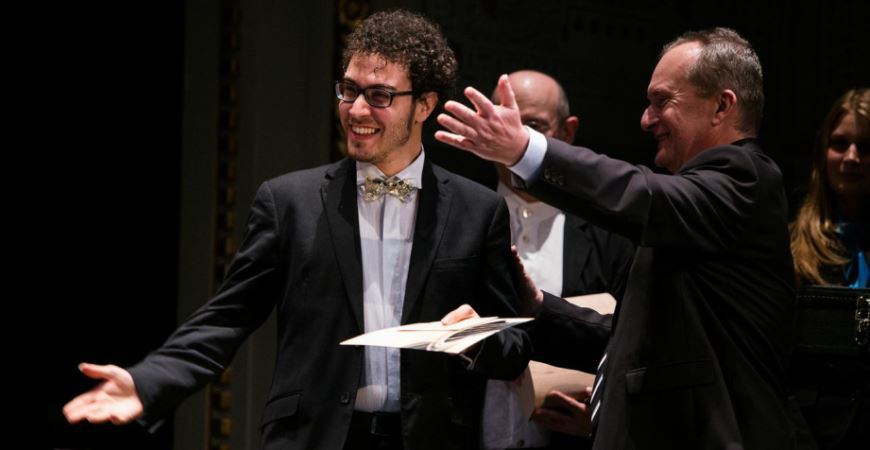 Andrea de Vitis and József Eötvös (Photo by Zoltán Tuba)
The competition started on 4 November with the opening ceremony, the draw for places, and a concert with József Eötvös and his former student, András Csáki, who were accompanied – also at the final and gala concert – by Anima Musicae Chamber Orchestra; the qualifying rounds took place on the 5 and 6, and the semi-final on the 7. The 5-day program concluded on 8 November with the final and the gala concert.