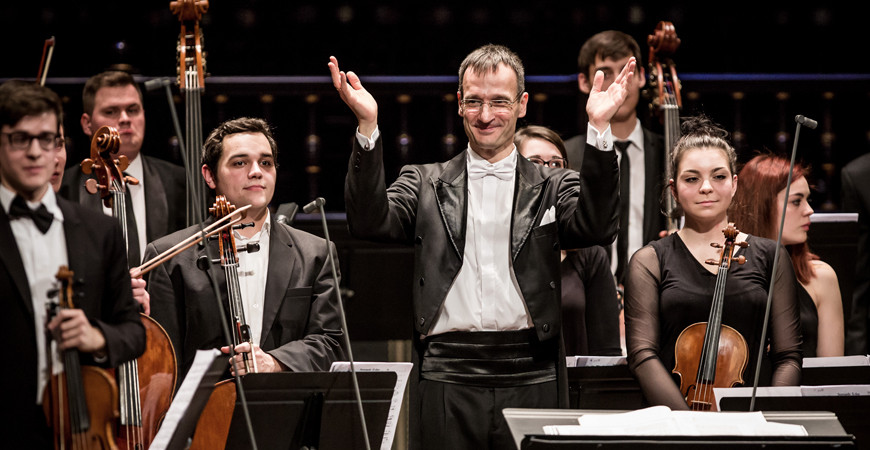 5 December 2019, 19.00-21.00
Solti Hall
Liszt Academy Chamber Orchestra/2

Presented by Liszt Academy
Concert by by 2nd and 3rd year Bachelor Students of the Liszt Academy
J. S. Bach: Brandenburg Concerto No. 3 in G major, BWV 1048
Händel: Harp Concerto in B-flat major, HWV 294
Vivaldi: Bassoon Concerto in E minor, RV 484
J. S. Bach–Gounod: Ave Maria
Corelli: Concerto Grosso in G minor, Op. 6/8 ('Christmas Concerto')
Sára Goda (harp)
Péter Hartenstein (bassoon)
Chamber Orchestra formed by 2nd and 3rd year Bachelor Students of the Liszt Academy
Conductor: Gergely Ménesi
The Liszt Academy functions as both university and concert centre, and these two profiles mutually reinforce each other: students can take part in study projects that end up being enjoyed by the general public. The institution prepares students not only for a soloist career but orchestral work, too, so a key role goes to symphony and chamber orchestra projects. This recital presents the chamber ensemble made up of third-year students. The conductor is Lajtha Prize laureate Gergely Ménesi, who has headed the university symphony orchestra since 2013.
Presented by
Liszt Academy Concert Centre
Tickets:
Admission to the concert is free. Free tickets can be obtained from the ticket office at the Liszt Academy one month before the concert.