Liszt's birthday celebrated at the Old Academy of Music
12/10/2017
On 21 October, 2017, the Liszt Ferenc Memorial Museum pays tribute with three piano recitals to the Liszt Academy's eponymous founder born 206 years ago.
The Liszt Ferenc Memorial Museum - dedicated to preserve the legacy of Ferenc Liszt - awaits all vistors with morning, afternoon and evening recitals held – as usual – on the day before the ingenious composer's birthday. On 21 October this year, the focus will be on the piano: the pianists István Gulyás, Wakioka Yohei and Jenő Jandó will paying homage to Ferenc Liszt by performing his compositions.
At the matinée recital at 11am, István Gulyás, a member of the Liszt Academy teaching staff will be performing the second suite ("Italie") of the Année de Pelegrinage. This piano cycle commemorates Liszt's trips to Italy between 1837 and 1839. The pieces recalling his travel memories consolidated into a unit only later, during his years in Weimar. The pieces of this cycle were inspired by the grand figures of Italian art, such as Petrarca, Dante, Raphael and Michelangelo.
In the afternoon, at 4pm, the Japanese pianist Yohei Wakioka will be interpreting Liszt's compositions, among others some of Liszt's piano transcriptions from Wagner's Operas (Spinnerlied from "Der fliegende Holländer", Isolde's Liebestod from "Tristan und Isolde"), while from 7pm, the performance of the Kossuth and Liszt Prize-winning pianist Jenő Jandó will be featuring solo piano compositions written by Beethoven, Liszt and Bartók. This Hungarian pianist is acknowledged as an outstanding interpreter of Liszt's oeuvre: he has released the recordings of the composer's piano works played on Liszt's own instrument, and in 1992, he was awarded with the Grand Prize of the Liszt Society for the LP issued by Hungaroton Records Publisher Ltd. featuring Liszt's Piano Concerto No. 3 opus posthumus.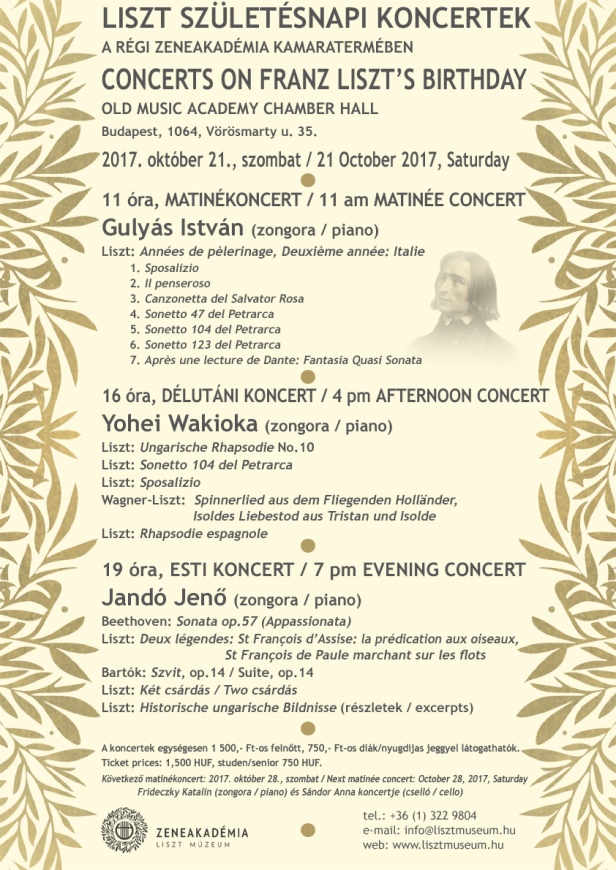 Tags