Péter Bor wins Lukács Pál National Viola Competition
4 May 2019
To celebrate the 100th birth anniversary of viola virtuoso Pál Lukács, who has ushered in viola teaching to Hungarian higher education, String Department of Liszt Academy of Music held a commemorial competition on the 29th and 30th of April 2019.
The jury included violist and viola teacher László Bársony, Pál Lukács's former student as well as violinist Vilmos Szabadi, Area Leader of Violin Sub-Department at the Liszt Academy of Music, violist and viola teacher Péter Bársony, professor at Liszt Academy and University of Music and Performing Arts Graz, violists György Konrád and Mihály Várnagy together with violinist and composer László Sándor.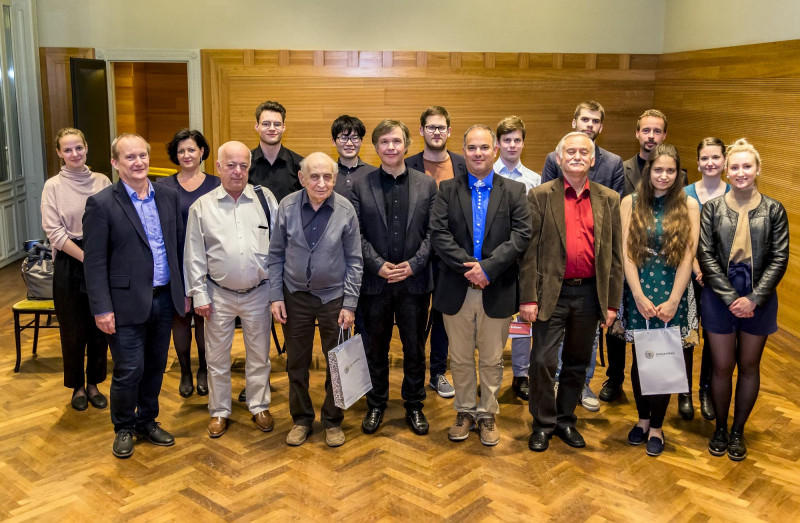 The jury members and the competitors (Photo: Andrea Felvégi / Liszt Academy)
Click on the photo to view the photo gallery!
Twelve of the 24 candidates played in the semi-finals and 7 qualified for the final.
The HUF 300,000 1st prize of went to former academy student Péter Bor (former student of Péter Bársony, student of Hartmut Rohde). András Kurgyis, doctoral candidate at the Academy's Doctoral School won the HUF 200,000 2nd prize and University of Music and Performing Arts Graz student Eszter Fodor won the HUF 100,000 3rd prize.
Contestants were also awarded special prices by the jury: special prizes of Hungaroton went to Liszt Academy students János Hidas and Hidetaka Shirai, along with Thomas Kálmán Széll and Mihály Juhász, students at University of Music and Performing Arts Graz. The junior special prize of Hungaroton went to Lilla Veér-Lenthár. Mihály Juhász received the special prize of Rosé Instruments. Special prizes of Universal Music Publishing Editio Musica Budapest went to János Hidas for the best performance of Lukács's etude and to Mihály Juhász for the best performance of László Sándor's piece. Besides the 1st prize Péter Bor was also awarded special prizes of Hungarian Radio and Bartók Béla Memorial House: the possibility of giving recitals at both locations.