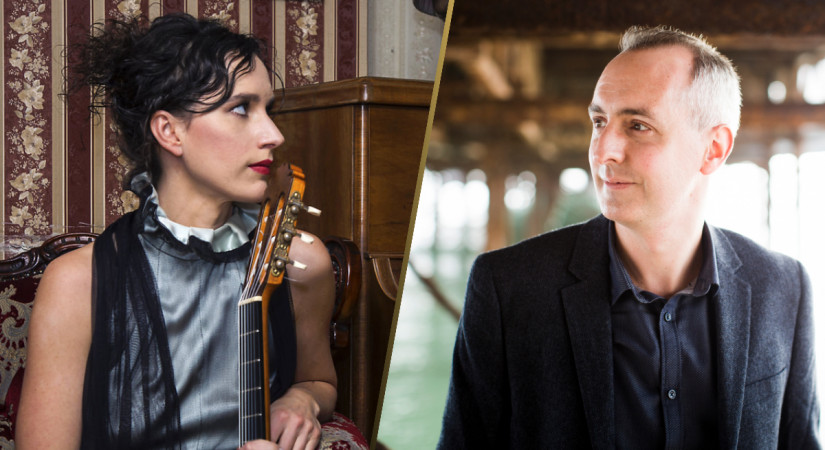 2023. február 3. 18.00-20.00
Előadóterem
Zeneszerző fórum – David Gorton és Koltai Katalin előadása

A Zeneakadémia saját szervezésű programja
Collaboration and Innovation: A 'proof of concept' for the 'Ligeti Guitar'
Az előadás részletes tartalma és az előadók életrajza (angol nyelven):
This joint lecture explores the process and outcome of a composer-performer collaboration between composer David Gorton (Royal Academy of Music) and guitarist Katalin Koltai (University of Surrey). This collaboration started in 2019 with a commission for the 'Ligeti Guitar', a new guitar prototype designed by Koltai integrating an adjustable magnet capo system into a transformed fretboard. The commission suited Gorton's extensive compositional work with rare instruments, including Forlorn Hope (2011) for eleven-string alto guitar, Austerity Measures II (2012) for Howath-Redgate oboe, and Cerro Rico (2017) for soprano violin and charango. In response to this new commission, Gorton wrote a 'proof of concept' for the 'Ligeti Guitar' in which the majority of the musical materials would not be possible on a standard six-string guitar. The resulting piece, Six Miniatures (2021) uses different arrangements of capos within a microtonal tuning for the guitar, in effect creating a different 'instrument' for each movement. The magnet capos thus provide an easy and quick solution for creating different microtonal scordatura within the same piece. The six movements explore contrasting fragmentary ideas suggested by the individual characters of the different instrumental configurations. Six Miniatures was published by Verlag Neue Musik in 2022 and will receive its world-premiere at the Budapest Music Centre in 2023. The lecture-recital will discuss issues of instrumental affordance and resistance within the collaborative process, and include a performance of Six Miniatures.
David Gorton is a winner of the Royal Philharmonic Society Composition Prize. His large-scale works include The Fall of Babel for the BBC Symphony Orchestra, Oblique Prayers for Claire Booth and the London Sinfonietta, and Schmetterlingsspiel for Christopher Redgate and Ensemble Exposé. Since 2010 three portrait albums have been released of his music on the Métier and Toccata Classics labels. Trajectories (Métier, 2010) emerged from a series of residencies at the Tate Gallery in St Ives and includes String Quartet: Trajectories, commissioned for the Kreutzer Quartet to be performed in the sea-facing gallery space. Orfordness (Métier, 2014) explores ideas of landscape and memory, taking its name from a solo piano piece written for Zubin Kanga that draws on programmatic references to the abandoned military base on Orford Ness. This preoccupation with East Anglian landscapes is continued in other works, including a collaboration with photographer Claire Shovelton resulting in Burgh Castle, written for CHROMA and pianist Roderick Chadwick at the Huddersfield Festival. Variations on John Dowland (Toccata Classics, 2017) represents another compositional preoccupation, that of late sixteenth- and seventeenth-century music. The disc contains two work based on original material by John Dowland: Lachrymae Variations for the string orchestra Longbow, and Forlorn Hope for guitarist Stefan Östersjö. Further exploration of this compositional interest includes Concerto su temi Torelli for recorder player Olwen Foulkes and violinist Peter Sheppard Skærved. David Gorton has also written on the subjects of composer–performer collaboration and musical subjectivity, publishing articles and book chapters with Oxford University Press, Leuven University Press, Contemporary Music Review, and Music & Practice. As a member of a research cluster at the Orpheus Institute in Ghent he was co-author of Voices, Bodies, Practices: Performing Musical Subjectivities (Leuven University Press, 2019).
David Gorton was a student at Durham University, King's College London, and the Royal Academy of Music, studying composition with Harrison Birtwistle and Simon Bainbridge. His music is published by Verlag Neue Musik, Berlin. David Gorton was appointed University of London - Royal Academy of Music  Professor of Music in January 2022.
Katalin Koltai is an internationally acclaimed guitarist, soloist, and chamber musician, performing regularly with major orchestras and a constant champion of contemporary music, creating interdisciplinary stage works and transcriptions. She recorded for labels  North/South Recordings-Naxos, Hungaroton and Genuin. Her transcriptions from various musical eras have been published by Doblinger Austria, and received international critical acclaim, notably from Classical Guitar Magazine and Gendai Magazine. Her solo and chamber music performances around Europe and Asia took her to various prestigious venues and events, including Royal Festival Hall, Kings Place, London Guitar Festival, Guitar Foundation of America Convention, Royal Music Association Conference, Dublin Guitar Symposium, Festival of Spanish Song in Granada, the Finnish Kuhmo Chamber Music Festival, the Greenwich International Early Music Festival and the Haydn Festival in Hungary.
Katalin gained degrees from the Budapest Ferenc Liszt Academy of Music, Royal Conservatory of Bruxelles, and the Conservatorium Maastricht, taught by József Eötvös, Antigoni Goni, Raphaella Smits, Carlo Marchione, and José María Gallardo Del Rey. She is currently a PhD researcher at the International Guitar Research Centre, University of Surrey supervised by Prof. Steve Goss and Tom Armstrong. Her research expands the boundaries of the guitar's idiom through arrangements, new music, and inventing a new magnet capo system and guitar prototype, the 'Ligeti Guitar'. Her publications include articles at Lute Society of America Quarterly, Soundboard Scholar. Currently a FASS Scholarship Holder, Katalin is a former fellow of the Dutch Cultural Ministry and awardee of Royal Musical Association, American Musical Instrument Society and the Hungarian Junior Prima Prize.
Rendező:
Liszt Ferenc Zeneművészeti Egyetem
Jegyár:
A belépés ingyenes a terem befogadóképességének határáig.